From August 29 to August 31, 2023 local time, the three-day 2023 InterSolar South America was grandly held at the North Convention and Exhibition Center in Sao Paulo, Brazil! Austa, a subsidiary of Ningbo Osda Solar Co., Ltd., showed up at booth W5.11 with hybrid inverters, residential optical storage and charging integrated on / off grid systems, battery modules, and overall solutions.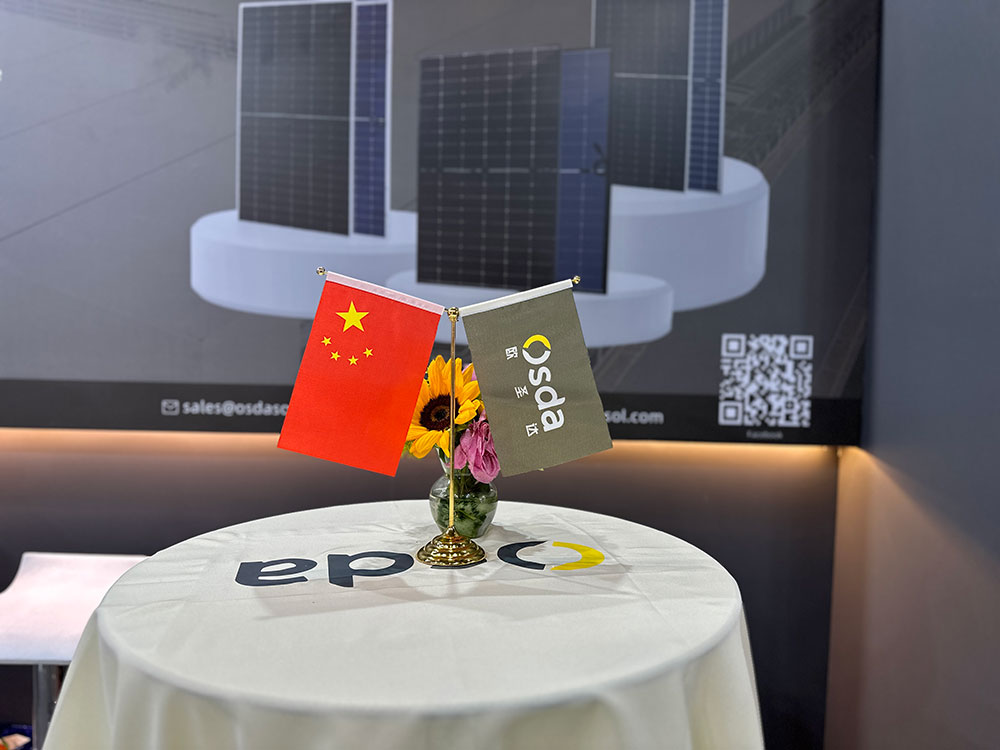 The annual InterSolar South America in Sao Paulo, Brazil is the largest and most popular solar technology exhibition in South America. The scale of this year's exhibition is larger than that of previous years, covering a total area of 34,018.00 square meters. 744 exhibitors from all over the world gathered here to display the latest solar technologies, products and solutions in the global industry. According to statistics, a total of 36,458 visitors came to the exhibition, which brought sufficient potential customers to the exhibitors. Participants can use the exhibition platform to share knowledge, promote exchanges, develop markets, jointly promote the innovation and development of solar energy technology, and work hard to realize a clean energy future.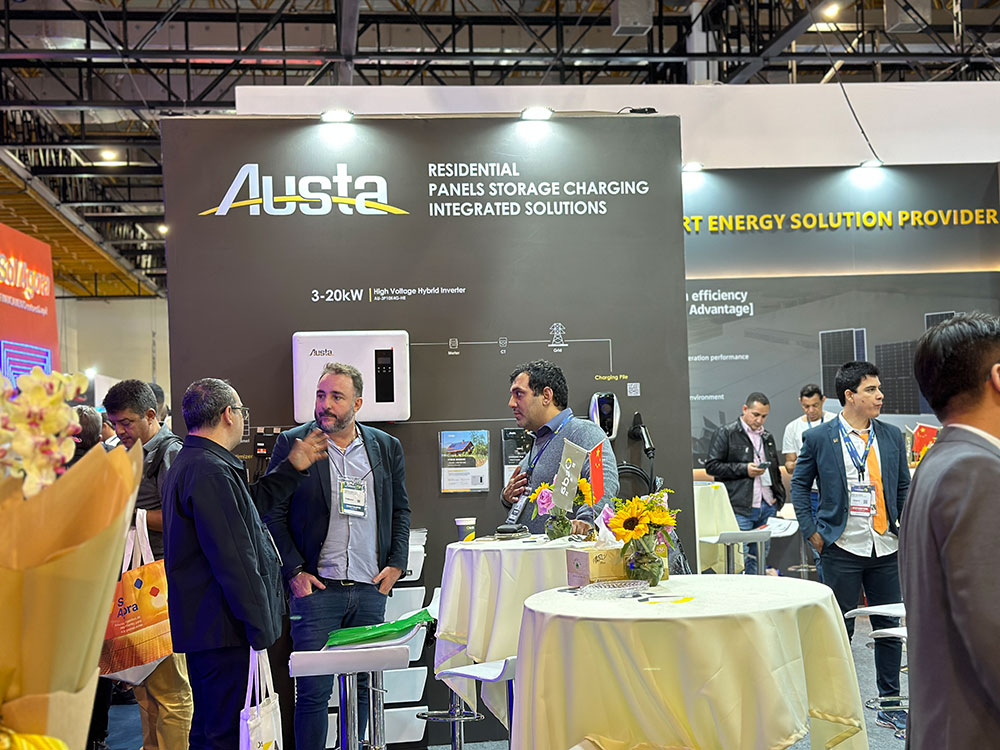 Ningbo Austa Solar Tech Co., LTD. is a subsidiary of Osda Solar group responsible for the research, development, production and sales of energy storage integrated systems. It is dedicated to the research, production, and sales of solar inverters, providing global customers with one-stop smart energy system solutions.
At this exhibition, Austa showcased Ningbo Osda Solar's commitment and mission towards green energy. Austa upholds the mission of allowing thousands of households to share green energy and strives to create higher quality photovoltaic energy storage systems, continuously updating and iterating products based on market demand. Austa has introduced microinverter system solutions, optical storage charging integrated solutions, and brand-new battery module solutions, equipped with a "core heart" and a new APP platform system. With its aesthetically pleasing design, high utilization rate, high conversion rate, strong stability, increased intelligence, and reliable safety, it fully meets the needs of a broad range of household users.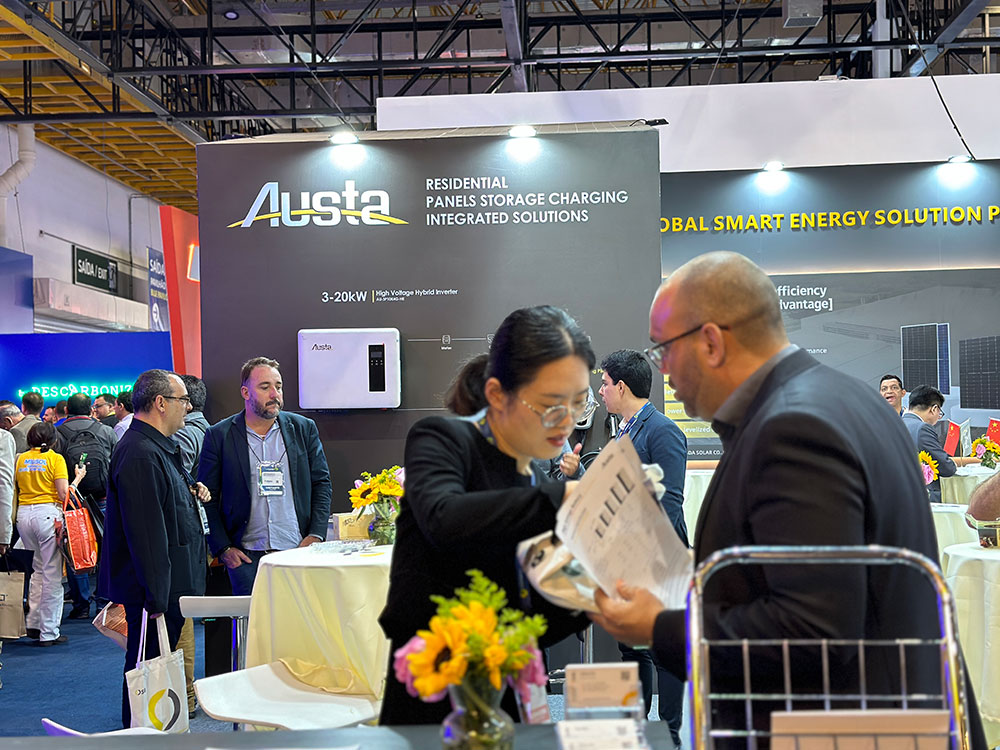 Austa microinverter system offers power options ranging from 300W to 2000W. With its built-in WiFi module, it can directly connect to the Internet for remote monitoring of operational data without the need for additional gateway products. Users can choose to connect their smartphones directly to the inverter, allowing them to view all system details. The built-in WiFi module is capable of withstanding high temperatures up to 105 degrees Celsius and has an IP67 waterproof rating, making the microinverter suitable for any environment and resistant to extreme weather conditions. Austa microinverter system is compact and lightweight, yet powerful and fully functional. It features high integration and precision design, ensuring a lifespan of over 25 years. With independent MPPT technology and real-time monitoring on a minute level, it accurately tracks the performance of each photovoltaic module, achieving maximum solar energy conversion. Its high heat dissipation aluminum alloy casing and overall potting process make it maintenance-free even in extreme environments, providing peace of mind for users.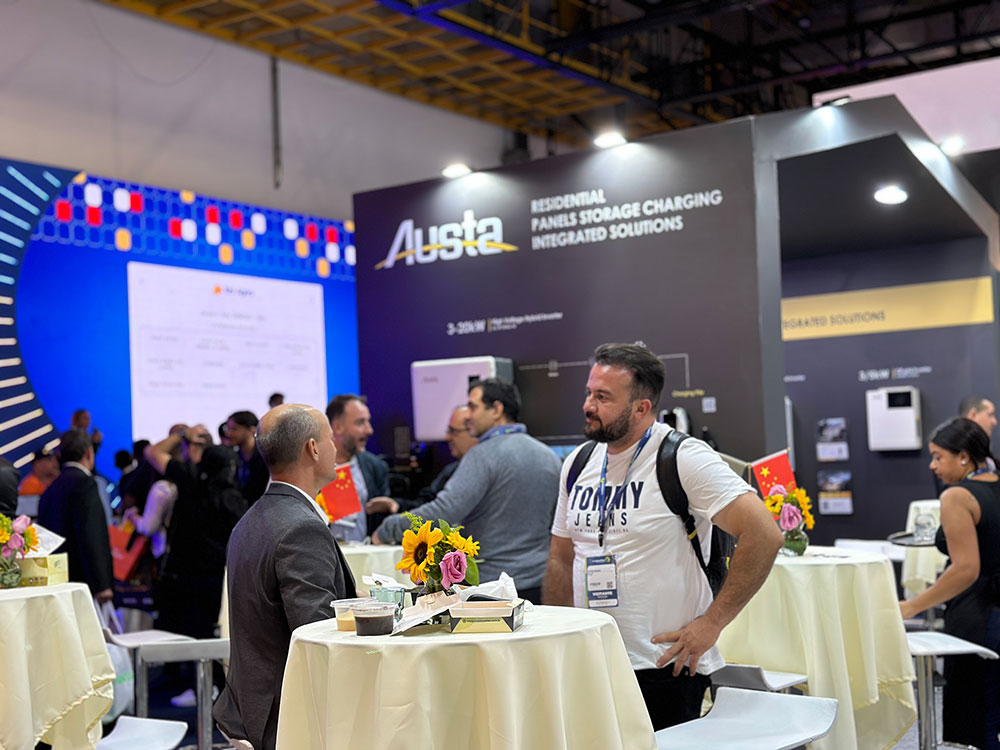 Residential optical storage and charging integrated solution is currently the flagship product of Austa. This system consists of hybrid inverters, energy storage batteries, and charging piles, with an integrated BMS battery management unit and EMS energy management unit. Through the management of EMS, the system is perfectly adapted to the application scenarios of photovoltaic self-generation and self-consumption, and also provides emergency power supply in the event of a power outage, making up a small-scale solar photovoltaic storage microgrid system to guarantee the power supply needs of key equipment. The system supports cloud monitoring, users can easily access the system operation through mobile phone apps, obtain a variety of real-time and historical data, and can also be set up remotely, operation and maintenance information query, firmware upgrades and other operations, to enjoy a zero-carbon life.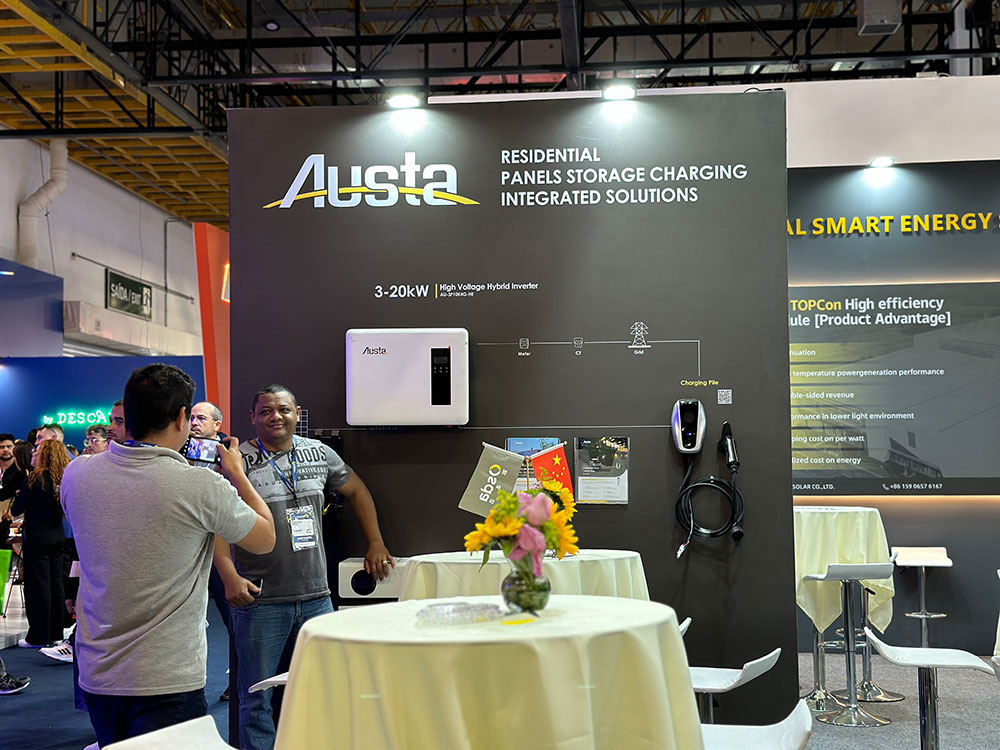 At the exhibition, the booth of Austa attracted many exhibitors and industry professionals. In addition to the technical characteristics of the product, Austa's unique design style and color are also praised by everyone. At the same time, a large number of visitors are full of confidence and expectation for the future prospect of Austa after having a deep understanding of the products.